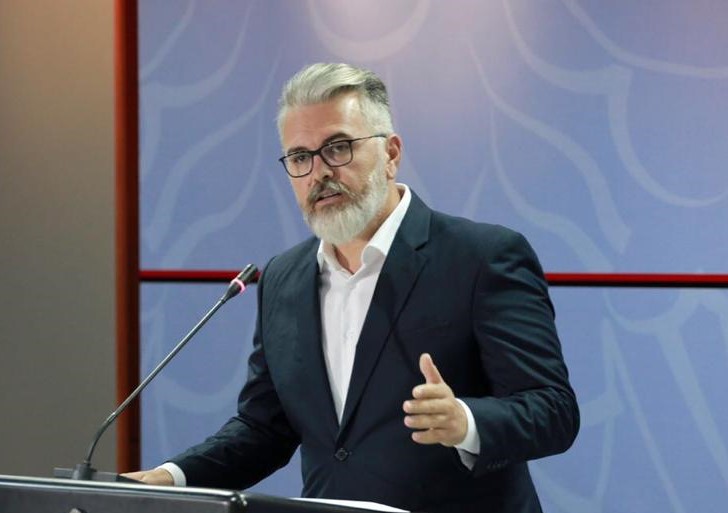 Toni Gogu

PROFESSIONAL EXPERIENCE
MINISTRY OF JUSTICE
DEPUTY MINISTER (OCTOBER 2017- PRESENT)

WORLD VISION WEST BALKANS (ALBANIA, KOSOVO & BOSNIA HERZEGOVINA) (WV WB)
NATIONAL DIRECTOR (DECEMBER 2016 - SEPTEMBER 2017 )
Provides overall strategic and operational leadership for World Vision West Balkans Sub-Region. Strategically lead, develop and direct the implementation of all aspects of World Vision Ministry in West Balkans as an effective member of the Partnership.

Promote WV's Vision, Mission, Core Values and key Partnership Standards and practices among staff and partners and ensure these are the foundation of the office strategy and work.

Represent WV to all donors, project partners, other WV Partnership offices and divisions, local Government, Church representatives and non-governmental organizations.

Ensure that WV's ministry is directly contributing to the sustained well-being of children and the fulfilment of their rights within families and communities. Ensure high Ministry quality and high impact on the field by leading in a way that WV Offices in West Balkans sub-region are achieving expected annual targets on sustainable basis in line with strategic priorities.
WORLD VISION ALBANIA & KOSOVO (WVA & K)
NATIONAL DIRECTOR (SEPTEMBER 2015 – SEPTEMBER 2017)
Provide leadership to leaders: specifically to the NO Senior Managers and direct reports.

Ensure there is a documented NO strategy, Ministry (pillar) strategies, Technical Approaches and operating plans with clear, measurable targets; Ensure that Ministry strategies are aligned with those of the Region and Partnership.

Promote WV's Vision, Mission, Core Values and key Partnership Standards and practices among staff and partners and ensure these are the foundation of the office strategy and work.

Ensure alignment of MFI with WV strategy, by participating in MFI boards, both in Albania and Kosovo.

Lead and manage the NO team to facilitate a high performance culture, open trustworthy relationships and integrity; Promote a culture of learning and development, employee engagement and good stewardship of human capital in the office.

Model a high standard of personal Christian leadership, ministry and integrity though lifestyle and work relationships, and provide spiritual guidance to staff on the Vision, Mission and WV Core Values, including countries with restricted religious context.

Ensure that office leadership is capable to work in interfaith contexts and is familiar with World Vision's commitments.
ALBANIAN DEPOSIT INSURANCE AGENCY (ADIA)
GENERAL DIRECTOR (NOVEMBER 2012 – JULY 2015)
Manages the day-to-day operations, including a staff of 27 employees and an equivalent investment portfolio of 240 million USD, of the Albanian Deposit Insurance Agency, in order to protect small depositors and pay them out, in case of bank failures.

Works closely with the Central Bank, Ministry of Finance and other financial safety-net participant, as well as international financial institutions as IMF, World Bank, EBRD, etc., in order to contribute to financial stability through contingency planning and crisis management.
ACHIEVEMENTS:
Led the structural change of ADIA and was able to attract highly qualified local and international staff in the management team.

Led the process of the drafting the new law on deposit insurance schemes in Albania.

Set up an automated data collection system at depositor's account level at each of the 16 commercial banks.

Led the negotiations and the signing of a €100 million stand-by credit line with the European Bank for Reconstruction and Development (EBRD) in order to provide extra funds to ADIA to pay out insured depositors, if and when required.
HEAD OF LEGAL DEPARTMENT AT BANK OF ALBANIA (SEPTEMBER 2005 - NOVEMBER 2012)
Organised and established a highly efficient legal department and led it to carry out the Bank's in house legal counselling.

Managed administrative and legal issues for both the bank and the banking industry.

Conducted regular legal assessments and reviews to evaluate compliance with banking requirements and to identify potential gaps in policies, procedures and business processes in the banking industry.
ACHIEVEMENTS:
Substantially improved the regulatory framework of the Bank of Albania by initiating and analysing several important internal regulations and directives.

Developed a strong legal department for the Bank, and implemented an administrative program that resulted in improved employee engagement and established a solid team culture.
CHANCELLOR AT TIRANA DISTRICT COURT (2001 – 2004)
Managed the daily operations of the larges court in the country, including case handling operations, case management and reporting on court issues. Developed a good case management system for civil and criminal court case culture through coaching, guidance and staff motivation.

ACHIEVEMENTS:
Set up an automated case management system.

Reduced court case management issues drastically.
OTHER PROFESSIONAL EXPERIENCE
REBIRTH CHRISTIAN FELLOWSHIP (BASHKESIA RILINDJA)
ASSOCIATE PASTOR (1994 - 2001)
Established and pastored the youth ministry of the church. Served as one of the teaching pastors of the church. Participated in the church social outreaches.
Organised and established different Bible teaching programs and several Bible study small groups.

Helped to establish a church sponsored food program for the poor.
ALBANIAN EVANGELICAL ALLIANCE (VELLAZERIA UNGJILLORE E SHQIPERISE)
EXECUTIVE COMMITTEE MEMBER (1997 – 2000 )
PRESIDENT (2000 – 2002)
Worked closely, representing the Protestant community with the State Constitutional Commission on the drafting of constitutional provisions on freedom conscience and religion .

Helped manage the largest refugee accommodation centre during Kosovo Crisis.

Helped the Alliance get organized and coordinated in regional alliances.

Raised funds for daily operations and several projects of the Alliance.
EDUCATION
LLM IN PUBLIC LAW
Tirana University – Albania (2004-2008)
BACHELOR OF ARTS IN LAW
Tirana University – Albania (1990 – 1994)

PROFESSIONAL ORGANIZATIONS AND AFFILIATIONS
Executive Board Member of the Inter-Confessional Bible Society of Albania, member of UBS (2000 – present)
Executive Board Member of International Association of Deposit Insurers (2012-2013)
Executive Board Member of the Association Européenne pour le Droit Bancaire et Financier (2010-present)

LANGUAGES
Albanian – Native
English – Excellent