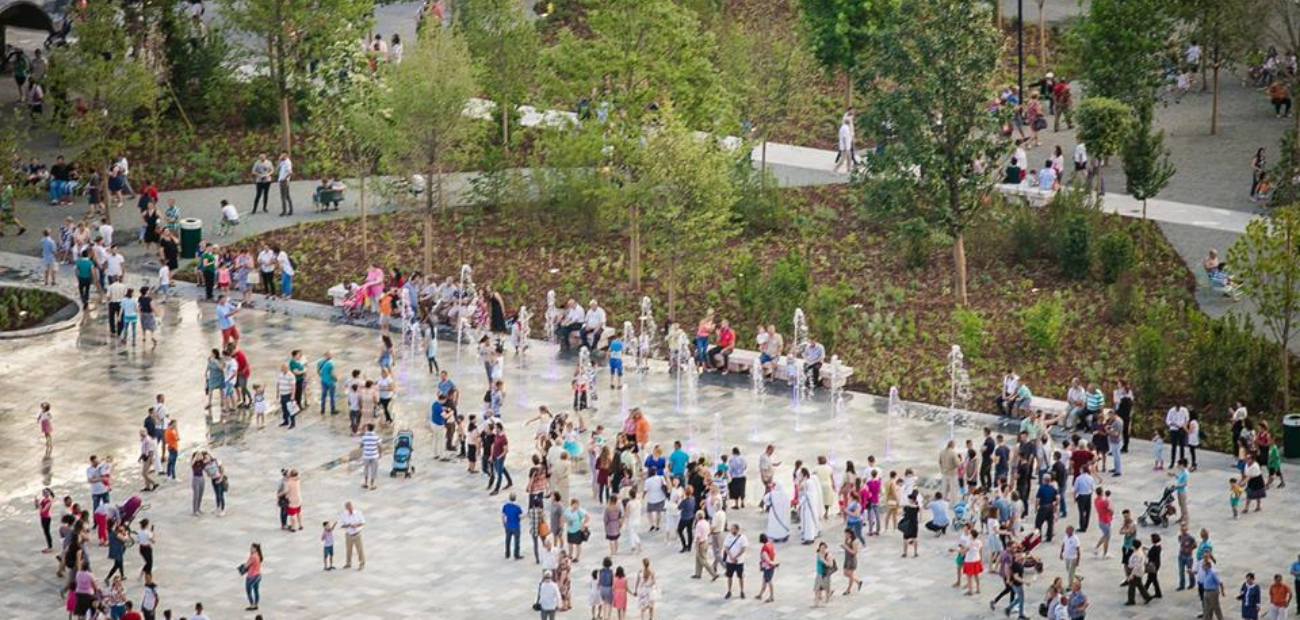 Day 1 in Tirana
If you visit us for one day, we suggest a plan. Enjoy!
Even if your stay in Tirana is just for one day, we invite you to follow this brief guide to ensure you don't miss Tirana's most exciting parts!

To begin your tour of Tirana, we suggest starting at Scanderbeg's Square, which is located in the center of the capital. Walk around this city square, and you can see the Palace of Culture, the Scanderbeg's Monument, the Bank of Albania and the National Historical Museum.
Visits to the National Museum of History cost only 500 Lek. This museum talks about the history of Albania from ancient times to the present day, highlighting important artifacts, historical figures and moments in Albanian history.
On the left hand side of Skanderbeg's Square, you will find the Clock Tower built in 1822 by Haxhi Et'hem Bey, who additionally constructed the Et'hem Bey Mosque, which is found directly adjacent to the Clock Tower. The Clock Tower offers a fantastic view of the city, while the mosque offers an incredible look at history and interior decoration unique to Tirana. Then, talking a minute walk alongside Tirana's City Hall, you will find Bunk'Art 2. Built by the Ministry of Internal Affairs, this 24 room bunker turned museum tells the history of the "Sigurimi," or political police, who operated on behalf of the regime during the communist era to suppress state opponents. At the same time, Bunk'Art 2 showcases where the Minister of Internal Affairs would've stayed had a much feared nuclear attack been launched on the country allowing visitors to truly immerse themselves in history.
From Bunk'Art 2, continue to walk straight and you will soon come across a pedestrian street named "Murat Toptani". Here is the Castle of Tirana and within its walls a new recreation area for the capital has recently been created. This pedestrian area serves as an environment where are promoted local artisans and traditions, culinary and art of Tirana. You can also see the National Theater, the National Gallery of Arts, "Reja" (the Cloud) Installation. Heading down the nearby "Dëshmoret e Kombit" (National Martyrs) Boulevard, you will notice the easy recognizable Tirana Pyramid. Initially built as a museum for the late dictator Enver Hoxha, the building now functions as a space for youth activities and as an iconic historical landmark.
Walking along the Main Boulevard on the side of the Pyramid you can see the newest installation in the capital called "La Radura", the work of Italian architect Stefano Boeri as a new concept for public spaces.
On Dibra Street is "House Studio Kadare"- a place where the writer worked and lived during the most important moments of his career, from 1974-1990, is located in one of the most popular neighborhoods of the capital.
Alternatively, you may want to take a trip to the New Bazaar "Pazari i Ri," which is located near the city center and functions as a market and recreative center for people to enjoy delicious foods from a variety of vendors, restaurants, and cafes.
Taking a walk around the city, you can see amongst the neighborhoods various old villas with interesting architecture which demonstrate the transitory periods that Tirana has gone through. One building to look out for is Sali Shijaku's House, which is one of the oldest villas in the Balkans and houses a vast collection of art by the beloved painter. The "House of Leaves" is another building that both demonstrates architectural excellence and serves as a must-see museum. Used as a headquarters for secret security surverillance during the Communist era, this museum is dedicated to all the innocent people who faced arbitrary arrests, severe convictions, exile, and even torture at the hands of security forces, which often times occured in this very house. The complex web of interceptions, controls and spies that helped the police operate in this manner is a central focus of the museum and this part of history.
In front of the "House of Leaves," you will find the ornate Orthodox Cathedral of the Resurrection of Christ, which was officially opened in 2012. Exemplifying religious harmony in Albania, you will notice that churches and mosques are often located along the same routes and are open to any and all visitors.
The most fashionable neighborhood in Tirana is certainly Blloku, or "the Block." This neighborhood is most well known for housing the villas used by government officials during the Communist era. Closed off to ordinary citizens, only those with special permission were allowed to enter this section of the city. Historical landmarks such as the villa of dictator Enver Hoxha, which remains untouched since his death in 1985, can also be found here and signified how the neighborhood would've looked during the communist era. Since then, the area has turned into the most visited neighborhood in Tirana for its vibrancy where you will find a variety of bars, restaurants, shops, and cafes. Simply stay for a drink or stay for a dance at one of a variety of music clubs in the area.
Heading past Blloku, one of the quietest spots in Tirana is the Artificial Lake, where you're sure to feel relaxed while being surrounded by nature. Take the opportunity to take a walk or bike ride, or stop for a drink at an outdoor cafe.
From the Artificial Lake it's easy to find Mother Teresa Square, and walking along the "Dëshmorët e Kombit" (National Martyrs) Boulevard, you will see a variety of attractions such as: The Polytechnic University of Tirana ( Former Fascism House), Air Albania Stadium, the Palace of Congress, the Offices of the Presidency, the Center for Operating and Dialogue (COD), and the Block Post Memorial, Youth Park where you can have fun playing bowling in Taiwan complex, in Bowling Spare Time.


Day 2 in Tirana
We suggest you begin the day at Tirana's Mosaic, one of the oldest monuments discovered in Tirana and thought to belong to a Roman villa built in the 3rd century AD. After visiting Tirana's Mosaic, you may choose to spend half a day taking the cable car up to Dajti Mountain and exploring the National Park of Dajti. At the national park, there are countless opportunities to admire the view from the top of the mountain as it overlooks all of Tirana and beyond. Use this opportunity to explore nature, go horseback riding or try some traditional Albanian food. And for those who love adventure, take a visit to the Dajti Adventure Park where on Dajti's balcony, you can even try paragliding.
To reach the Dajti Ekspres cable car, take the blue Porcelan Bus from the city center (located behind the Palace of Culture) for about twenty minutes (40 Lek one way) until the last stop. The bus will drop you only a couple of minutes walk from the cable car.
Bunk'Art 1 is another one of Tirana's most important attractions and is a museum dedicated to the victims of the communist regime and built within the rooms of an abandoned bunker. Almost 3,000 square meters underground with more than 100 rooms, the existence of this bunker itself remained a secret only until recent years. Bunk'Art 1 also functions as a contemporary art museum and is a complementary museum to Bunk'Art 2. To arrive there from the center of Tirana, take Porcelan Bus (L.11) from the city center (located behind the Palace of Culture) for about twenty minutes (40 Lek one way) and ask the driver to leave you outside Bunk'Art 1. The museum is located near the "Dajti Express" Cable Car, so you may combine visits to Bunk'Art 1 and Dajti Mountain.
If you are looking for fun you can book at Latitude, an indoor air park complete with trampolines, climbing areas and air games to add to more adventure and adrenaline in your leisure activities.

Day 3 in Tirana
On the third day, we suggest visiting Petrela Castle, which is located on a rocky hill 15 km southeast of Tirana. Since ancient times, this castle has controlled important economic and military routes across the country such as the Egnatia road which runs from Durrës to Tirana to Elbasan. You can reach the castle by taking the bus from the southeast terminal and in twenty minutes, you'll reach "Mamica Square" in the center of Petrela. A restaurant located within Petrela Castle offers a great place to have lunch and admire the fantastic view before walking from the castle to the ancient settlement of Persqopi. There exists the highest fortification preserved throughout Albanian territory and a Monumental Tomb belonging to the 3-4th Century BC. One of the most interesting and accessible attractions there is "Pëllumbasi Cave" in Bërzhitë, where you can visit the nearby village of Pëllumbas by bus, and then walk to the cave, which is both beautiful and relaxing. There are easy to follow tracks and diagrams to guide you along the way.
From here, we suggest for those able to, to take a hike up to the Cyclops' Eye, which is an attraction in the Erzen valley and part of the Krrabë administrative unit. There lies a lake in the form of a heart with crystal clear water where you can choose to swim or just enjoy the refreshing feeling of surrounding nature.
If you enjoy bike riding, we suggest visiting Farkë Lake and the surrounding area which is located very close to Tirana and hosts many opportunities to go for a relaxing and picturesque ride.